The third Honor Flight of the year was full. Seventy-five veterans making their way to see monuments dedicated to them, and to their friends who didn't make it back. While everyone on the flight shared a common background of service, there were 75 different reasons they were all there.
"Just to honor all those people who served so well," Dewey Fitch said. "And to hear people thank you for your service is very touching." Fitch served in the Air Guard for 30 years while working at Caterpillar. "I was in airplanes and taught flying for years. I bought an airplane and used it to fly my wife and I to Arizona for 15 years. Aviation has been everything."
He was in ROTC in college during the Korean War, and was called on to fly along the East German border during the Cold War. He's been to Washington on business, but had never seen many of the memorials on the agenda for the flight.
But, for Randolph Prunty, this is just his second visit to the nation's capital since the 1980's.
"We had our dinner last night and I was thinking on some things and I teared up and I wondered would I be able to walk down this wall?" he said. "The Vietnam wall is just an entity unto itself. You walk down into the ground and you have the 58,200 names. You can touch the names. You reflect – when you take your picture next to the name you can see yourself in it. It's such a great memorial."
While Fitch is on a general path of appreciation and reflection on his flight, Prunty has a mission.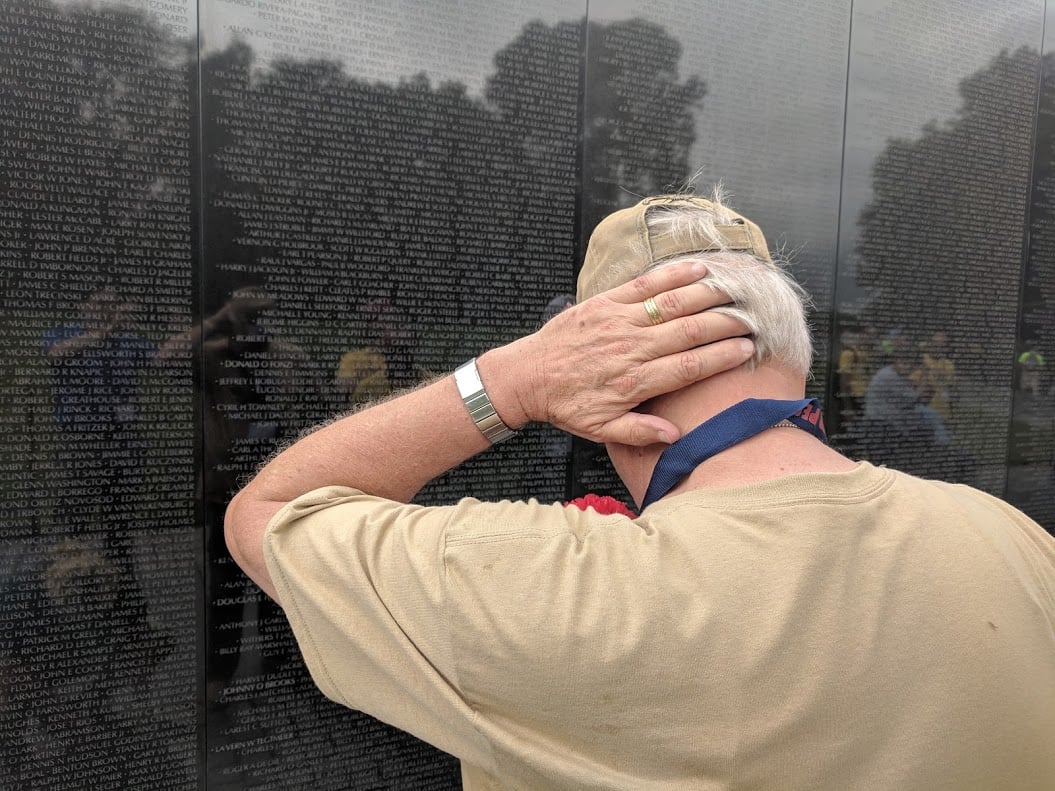 "Today I brought six pictures and information on friends that I loaded onto helicopters that I never saw again," Prunty said. He served in the Navy during Vietnam. "I still visit some of their grave sites. For us veterans that survived it's all about keeping their memory alive, and that's what we try to do."
That is especially important to World War II veterans. There are only five on this flight. Charles "Ray" Warren served in Japan after the United States dropped the atomic bombs. Those visuals still haunt him.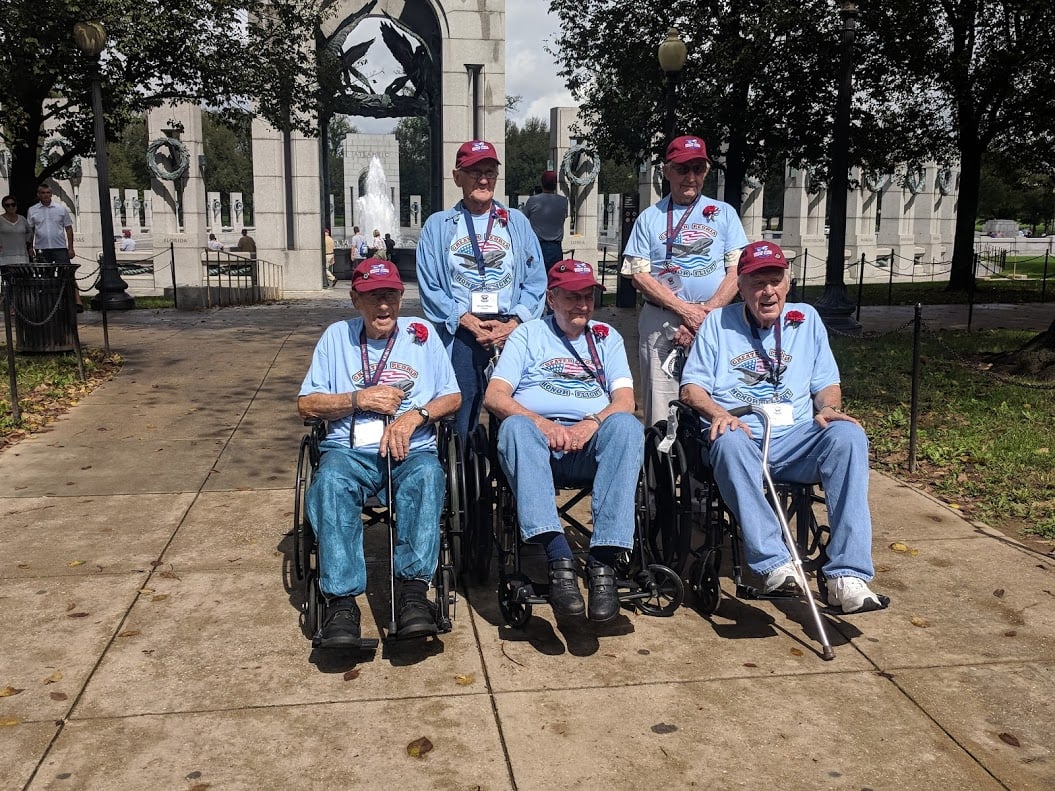 "It was bare as this ground where it hit," Warren said. "None of them lived. I didn't talk about it much."
Warren drove trucks full of food to people in Japan, and fondly remembers delivering steaks on Saturday nights.
In a lot of ways the World War II Memorial is why the honor flight exists. It took 59 years from the end of World War II to build the memorial, and by that point a lot of veterans were too old to travel by themselves. A lot of them probably wouldn't see this memorial if it weren't for the honor flight.
"It took me a long time to make up my mind to come," Warren said. "I thought I'd done my part and you people back here had done your part. I didn't want too many memories. I put it off a long time."
One of the most moving ceremonies they saw came first in their trip. The changing of the guard at the Tomb of the Unknown Soldier. A soldier from the third regiment paces 21 steps along a black mat, changes direction, waits 21 seconds, and then proceeds the other way.
Even though all 75 veterans had their own journey that day, they were united in their awe of the discipline.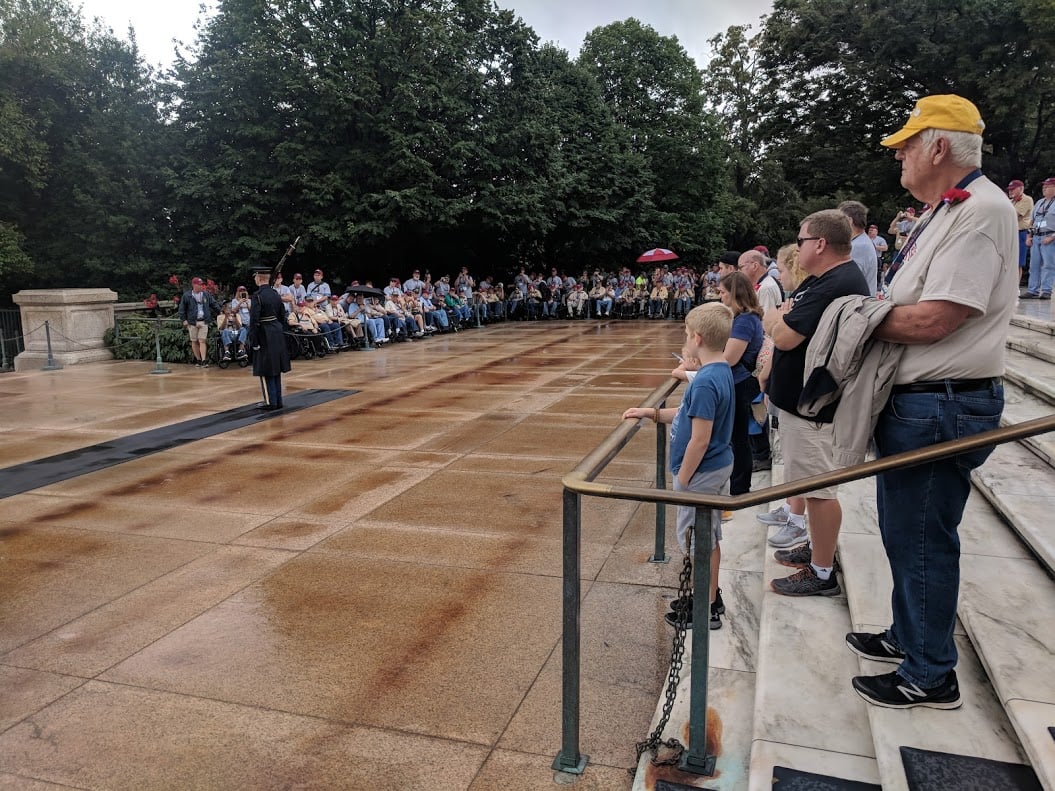 "I think it was nice and beautiful and I'll probably never get another chance [to see it]," Warren said.
"Arlington was very impressive because we were told that the Army and Navy never leave anybody behind… that's carrying on the American tradition of never leaving a man behind. It's very impressive," Fitch said.
"The Tomb of the Unknown is just the military at its finest," Prunty added. "First class tradition and pride. The 21 steps the precision of everything that they do, the perfect attire – I'm glad we started the day there."
Prunty has dedicated his life to helping veterans – especially those contemplating suicide – who who need to register with the Department of Veterans Affairs. But his time overseas scarred him. Veterans weren't appreciated when he returned from Vietnam. He was told to arrive in civilian clothes. He wondered what type of support he'd get when he returned from the honor flight.
"Being a Vietnam Veteran my worst fear is coming back to an airport and there being nobody there," Prunty said. "I know that won't be the case because Peoria has a good following and good support, but that's my worst fear."
But he had nothing to worry about. Hundreds of people lined the lobby walls at the Peoria International Airport to welcome them home.
"What a welcome from your home town, what could be more welcome than that?" Fitch said. "It's great, yeah, nice to be welcomed home."
"It was a great day and a beautiful night to end it with," Prunty said. "This was way better than I could have asked for. From a Vietnam veteran, thank you so much. The welcome home means a lot."